Friends of Today's Music
---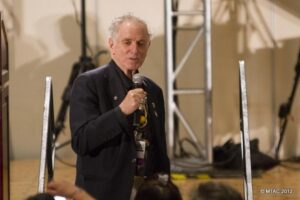 Friends of Today's Music commissions new works specifically for young musicians. Established in 1986 by Dr. Bob Bennett, the project has supported the creation and publication of new works by leading composers of our time. Each commissioned work is premiered by young musicians during the MTAC convention while the audience follows along with the published score. This program provides students the unique opportunity to collaborate with the composer of the piece, and demonstrates the importance of playing music not only from the past but also music being created by today's composers.

Friends of Today's Music Commissioned Composer
Bruce Stark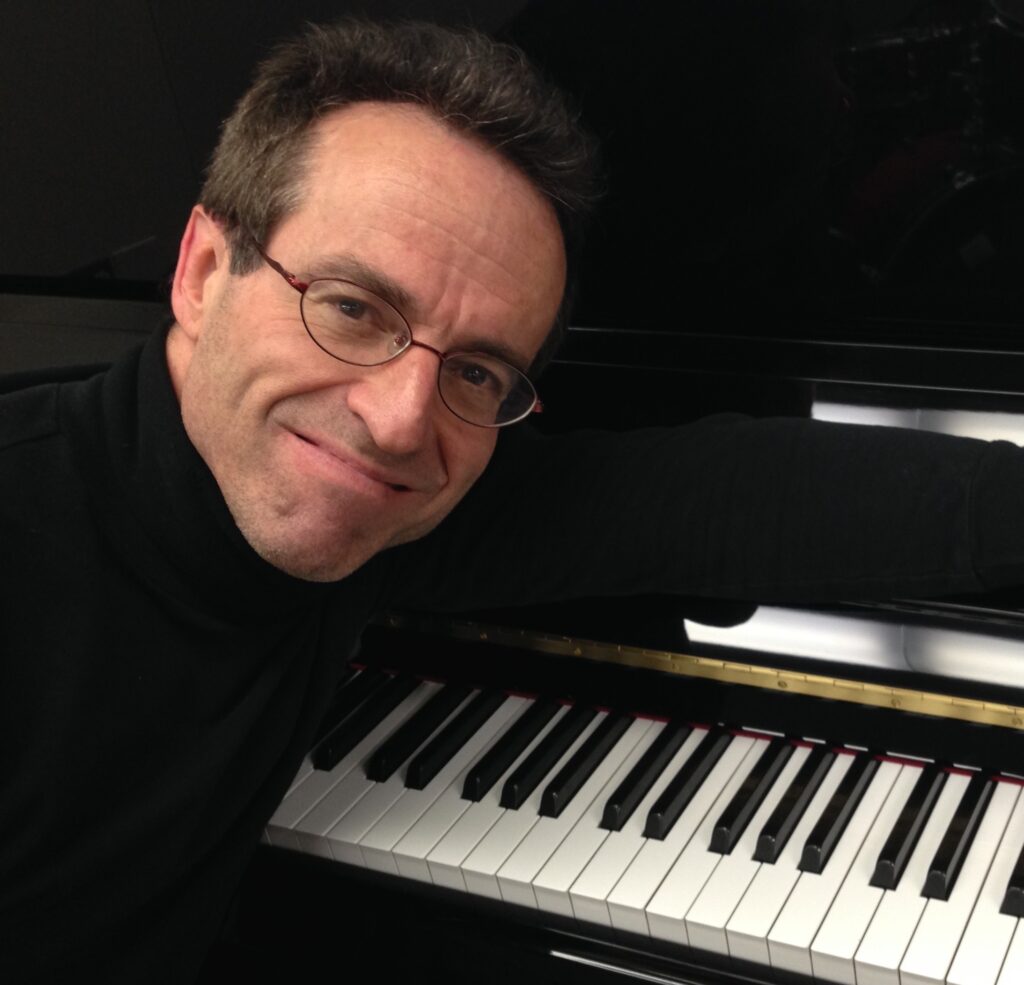 Join us at the MTAC Convention
July 1, 2018 1:00 p.m.
Hyatt Regency Orange County
This event is free and open to the public.
For more information contact FTM chair: Dr. Minji Noh
The music of American composer Bruce Stark (born in San Diego) reflects the varied elements of his musical upbringing: early studies in percussion, jazz piano, and classical composition. He completed a masters degree in composition at the Juilliard School in 1984 as a student of Roger Sessions and Vincent Persichetti. Thereafter for more than twenty years he resided in Tokyo, producing a collection of works that reveal a compelling musical voice, drawing from a multiplicity of disciplines and sensibilities. In 2013 he returned to the U.S. and joined the music faculty of DigiPen Institute of Technology (Seattle area) as professor of composition and theory.
His music, ranging from solo piano and chamber music to choral and orchestral pieces, has been performed on the concert stages of four continents, recorded on numerous CDs and broadcast on radio programs worldwide. Awards include First Prize in the Composers Guild Contest, Second Prize in the Barlow International Competition, ASCAP composer awards and others. His compositions have been featured in the National Flute Association Convention, The American Piano Festival, The International Trombone Festival, the Canberra International Chamber Music Festival , and Keys To The Future piano music series in New York City. Other performances have included the Baton Rouge Symphony and the Music School Festival Orchestra of Chautauqua under Timothy Muffit, the Hong Kong Philharmonic Orchestra under David Charles Abell, and the Rapides Symphony under Joshua Zona. Recordings of his works have been released by Hanssler Classic (Germany), Centaur Records, Red Kite Records, and separate pieces are included in releases by numerous performers. Recent commissions include trombonists Megumi Kanda and Don Lucas, flutist John Barcellona and pianist Kai Schumacher.
Stark's performances as pianist/arranger can be heard on many recordings (Victor Entertainment, Meister Music, ALM Records, Nami Records, MA Recordings and various independent labels). While living in Tokyo he appeared as soloist, group leader and ensemble player in major concert halls throughout Japan as well as Shanghai's Grande Theatre, Kennedy Center, and a six-country tour of South America sponsored by the Japan Foundation for Cultural Exchange. In 2013 he won First Prize in the solo jazz piano division of the Wild Flower Music International Recording Competition for his performance of Body and Soul.
Three Dances (2017) for Flute, Violin & Piano
Stark composed Three Dances during the summer of 2017, with the intent of offering a trio for flute, violin and piano comprised of lively, rhythmically driven outer movements and a middle movement of introspective beauty. The pieces draw from his diverse musical roots, beginning with the jazz-influenced music of Groove in which a syncopated theme is followed by each instrument taking a solo of improvisational character over the accompanying "groove". The second movement, a quiet waltz, provides meditative repose and sustained lyricism in the center of the collection. Chorale settings of J.S. Bach were the music that first drew him into the study of classical composition, and his love of simple, hymn-like melody has stayed with him ever since. Waltz features the flute and violin in two presentations of a simple theme accompanied by a piano figure that begins in the high register, grows into a more florid pattern, then returns to its initial character, winding down like a music box. The third movement, Jig, brings the set to an energetic and celebratory conclusion. Its Celtic and bluegrass flavor comes from another aspect of his musical upbringing: both of his grandfathers were bluegrass fiddle players, and many of the songs he heard his father sing and play on mandolin as he grew up were the Scottish and Irish tunes he cherished from his own childhood.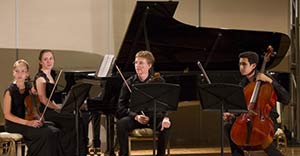 Friends of Today's Music Commissioned Works are made possible through the generous support of the Aaron Copland Fund, the Beyster Family Fund at the San Diego Foundation, and individual donations. Anonymous, individual, and MTAC member contributions are accepted throughout the year. To donate, please contact the Veronica Reyes, Finance Associate, (415) 978-9668, toll free (800) 834-3340 ext. 109
Year

Composer

Title

Publisher

2016

Michael Daugherty

The Old Man and the Sea
For violin, cello, and piano

Peermusic Classical/Boosey and Hawkes
and Michael Daugherty Music

2015

Joan Tower

Sixth Fanfare for the Uncommon Woman
For Solo Piano

AMP/G. Schirmer Rental Library

2014

Derek Bermel

Four Homages for Piano
For Piano

Peermusic Classical

2013

Katrina Wreede

I-5
For Violin, Viola, Cello, Piano

Vlazville Publishing

2012

David Amram

Cancion de Verano
For Violin, Viola, Cello, Piano

C.F. Peters Corporation

2011

Robert Aldridge

Three Waltzes
For Piano

C.F. Peters Corporation

2010

David Rakowski

Étude-Fantasies
For Piano Four Hands

C.F. Peters Corporation

2009

Chen Yi

From Old Peking Folklore
For Violin and Piano

Theodore Presser

2008

Paul Chihara

Fantasy
Trio for Flute (Violin), Cello and Piano

C.F. Peters Corporation

2007

Gabriela Lena Frank

Danza de los Saqsampillos
For Two Pianos

G. Schirmer

2006

William Bolcom

*Nine New Bagatelles
For Piano

E. B. Marks Music, Hal Leonard

2005

Libby Larsen

PentaMetrics
For Piano

Oxford University Press

2004

Steven Stucky

*Meditation and Dance
For Clarinet and Piano

Theodore Presser

2003

Judith Lang Zaimont

In My Lunchbox
For Piano (intermediate)

Vivace Press

2002

Melissa Hui

*and blue sparks burn
For Violin and Piano

Available through MTAC

2001

Robert Maggio

Dreams from Childhood
Piano Duet (intermediate)

Theodore Presser

2000

Bruce Adolphe

Well, It's Not exactly Beethoven
For Piano

PollyRhythm Productions

1999

Martin Rokeach

*can't wait
Violin ( flute) Clarinet & Piano

Roncorp Publications

1998

Vivian Fung

Scherzo
Violin, Cello & Piano

Available through MTAC

1997

Samuel Adler

*Concerto No. 2
For Piano & Orchestra

Theodore Presser

1996

Samuel Zyman

Two Motions in One Movement
For Piano

Theodore Presser

1995

Seymour Bernstein

Fantasy on a Theme by Francisco
For Piano

G. Schirmer

1994

Stephen Hartke

The Piano Dreams of Empire
For Piano

MMB Music, Inc.

1993

Donald Waxman

Arabesques and Ostinato
For Two Pianos

Galaxy Music Corp. (ECS)

1992

Emma Lou Diemer

Three Piano Pieces

Plymouth Music/Elkin Music

1991

Gunther Schuller

Music For Young People
Flute and Piano Trio

AMP/Schirmer

1990

David Ott

*Sinfonia for Cello and Piano

Park Music Press

1989

Samuel Adler

*The Road to Terpsichore
For Piano

G. Schirmer

1988

William Albright

*The Machine Age
For Piano

C.F. Peters Corporation

1987

Leslie Bassett

*Configurations
For Piano

C.F. Peters Corporation

1986

Richard Felciano

Five Short Piano Pieces

Available through MTAC


For more information, contact:
Friends of Today's Music and Contemporary Music Seminar State Chair, Dr. Minji Noh