Friends of Today's Music
---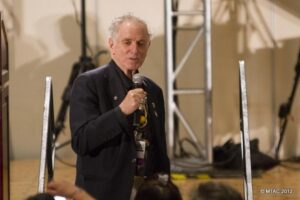 Friends of Today's Music commissions new works specifically for young musicians. Established in 1986 by Dr. Bob Bennett, the project has supported the creation and publication of new works by leading composers of our time. Each commissioned work is premiered by young musicians during the MTAC convention while the audience follows along with the published score. This program provides students the unique opportunity to collaborate with the composer of the piece, and demonstrates the importance of playing music not only from the past but also music being created by today's composers.

Friends of Today's Music Commissioned Composer
Daniel Felsenfeld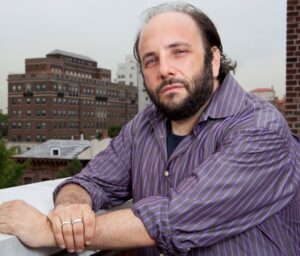 Join us at the MTAC Convention
Sunday, June 30, 2019
Hyatt Regency Santa Clara
This event is free and open to the public.
For more information contact FTM chair: Dr. Minji Noh
"Committed as strongly to freshness as to intelligibility, Daniel Felsenfeld composes music that's strong, unusual, intelligent, and considerably skilled." – Composer John Corigliano
Composer Daniel Felsenfeld has been commissioned and performed by Simone Dinnerstein, Opera On Tap, The Chorus of Trinity Wall Street, The Juilliard School, UrbanArias, Metropolis Ensemble, Transient Canvas, The Crossing, International Contemporary Ensemble, Meerenai Shim, New York Philharmonic New Music Biennial, The Juilliard School, NANOWorks Opera, Kathleen Supovè, Two Sense (Lisa Moore and Ashley Bathgate), ASCAP, San Jose Opera, ETHEL, Great Noise Ensemble, American Opera Projects, The Secret Opera, Da Capo Chamber Players, Cadillac Moon Ensemble, Transit, Redshift, Nadia Sirota, Jennifer Choi, Lara Downes, Blair McMillen, Metropolis Ensemble, Two Sides Sounding, Juxatonal, Shepherdess, Kristin Elgersma, Eleanor Taylor and Jen Devore, Alcyone Ensemble, Parhelion Trio, Bryan Haslett (with Juxatonal), Xanthos Ensemble, Friction Quartet, Momenta Quartet, Nouvelle Ensemble Moderne, Cornelius Duffallo, Emily Manzo, Stephianie Mortimore, Mellissa Hughes, Corey Dargel, Jenny Lin, New York City Opera (VOX), ACME, New Gallery Concert Series, Gabriella Diaz, Jody Redhage, Caroline Worra, Kristin Chambers, Marcy Richardson, Kamala Sankaram, The Jessold Consort, New England Conservatory Philharmonic in venues such as Carnegie Hall, Galapagos Art Space, The Kimmell Center, Jordan Hall, the Kitchen, Miller Theatre, Merkin Hall, Wigmore Hall, Stanford University, Harvard University, National Sawdust, The Stone, Brown University, Le Poisson Rouge, City Winery, and the Kennedy Center in Washington, D.C, and as part of the BEAT Festival, MATA Festival, Make Music New York, 21c Liederabend, Ecstatic Music Festival, Opera Grows in Brooklyn, New Brew, Serial Underground, and John Wesley Harding's Cabinet of Wonders. When rapper Jay-Z performed in Carnegie Hall, along with Alicia Keys and Nas, backed by a full orchestra, Felsenfeld was asked to do all of the orchestrations and arrangements. He also collaborated with The Roots (offering music on their Grammy-nominated record Undun, appearing with them and the Metropolis Ensemble on the Jimmy Fallon Show) and ?uestlove with Keren Ann and David Murray. He also wrote arrangements for noth ShuffleCulture and Electronium, shows at the Brooklyn Academy of Music with ?uestlove, Sasha Grey, Deerhoof, Reggie Watts, and How to Dress Well and the Metropolis Ensemble.  He is also the Court Composer for John Wesley Harding's Cabinet of Wonders, for which he wrote the theme—and which can be heard as an NPR Podcast.  Residencies include Yaddo, the MacDowell Colony, The Hermitage, and the Atlantic Center for the Arts.
Felsenfeld is also an accomplished essayist, annotator, and author, with eight books to his name as well as articles for the New York Times, The New Yorker, Listen, Playbill, Time Out New York, Symphony Magazine, Strings Magazine, New Music Box, and Early Music Magazine; program notes for the Metropolitan Opera, New York City Opera, Philadelphia Orchestra, Miller Theatre, Wigmore Hall, and Carnegie Hall; liner notes for Naxos, Bridge, Koch, EMI, Sony, and Adjustable Music. He served as curator for The Score in the Opinionator Section of the New York Times, he co-founded the New Music Gathering (an annual conference-concert series hybrid) which took place in San Francisco in 2015, as well as for Music After, a marathon concert on 9.11.11 he co-produced with Eleonor Sandresky. He is a teaching artist at the New York Philharmonic's Very Young Composers program, as well as holding teaching positions at the Juilliard School, the Walden School, and the New School for Social Research. Currently he lives in Brooklyn with his wife and daughter.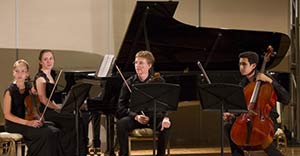 Friends of Today's Music Commissioned Works are made possible through the generous support of the Aaron Copland Fund, the Beyster Family Fund at the San Diego Foundation, and individual donations. Anonymous, individual, and MTAC member contributions are accepted throughout the year. To donate, please contact the Veronica Reyes, Finance Associate, (415) 978-9668, toll free (800) 834-3340 ext. 109
Year

Composer

Title

Publisher

2018

Bruce Stark

Three Dances, Flute, Violin and Piano Trio

Belle-Kane Publishing

2017

Lei Liang

Tree Rings, One Piano Four Hands

Schott

2016

Michael Daugherty

The Old Man and the Sea
For violin, cello, and piano

Peermusic Classical/Boosey and Hawkes
and Michael Daugherty Music

2015

Joan Tower

Sixth Fanfare for the Uncommon Woman
For Solo Piano

AMP/G. Schirmer Rental Library

2014

Derek Bermel

Four Homages for Piano
For Piano

Peermusic Classical

2013

Katrina Wreede

I-5
For Violin, Viola, Cello, Piano

Vlazville Publishing

2012

David Amram

Cancion de Verano
For Violin, Viola, Cello, Piano

C.F. Peters Corporation

2011

Robert Aldridge

Three Waltzes
For Piano

C.F. Peters Corporation

2010

David Rakowski

Étude-Fantasies
For Piano Four Hands

C.F. Peters Corporation

2009

Chen Yi

From Old Peking Folklore
For Violin and Piano

Theodore Presser

2008

Paul Chihara

Fantasy
Trio for Flute (Violin), Cello and Piano

C.F. Peters Corporation

2007

Gabriela Lena Frank

Danza de los Saqsampillos
For Two Pianos

G. Schirmer

2006

William Bolcom

*Nine New Bagatelles
For Piano

E. B. Marks Music, Hal Leonard

2005

Libby Larsen

PentaMetrics
For Piano

Oxford University Press

2004

Steven Stucky

*Meditation and Dance
For Clarinet and Piano

Theodore Presser

2003

Judith Lang Zaimont

In My Lunchbox
For Piano (intermediate)

Vivace Press

2002

Melissa Hui

*and blue sparks burn
For Violin and Piano

Available through MTAC

2001

Robert Maggio

Dreams from Childhood
Piano Duet (intermediate)

Theodore Presser

2000

Bruce Adolphe

Well, It's Not exactly Beethoven
For Piano

PollyRhythm Productions

1999

Martin Rokeach

*can't wait
Violin ( flute) Clarinet & Piano

Roncorp Publications

1998

Vivian Fung

Scherzo
Violin, Cello & Piano

Available through MTAC

1997

Samuel Adler

*Concerto No. 2
For Piano & Orchestra

Theodore Presser

1996

Samuel Zyman

Two Motions in One Movement
For Piano

Theodore Presser

1995

Seymour Bernstein

Fantasy on a Theme by Francisco
For Piano

G. Schirmer

1994

Stephen Hartke

The Piano Dreams of Empire
For Piano

MMB Music, Inc.

1993

Donald Waxman

Arabesques and Ostinato
For Two Pianos

Galaxy Music Corp. (ECS)

1992

Emma Lou Diemer

Three Piano Pieces

Plymouth Music/Elkin Music

1991

Gunther Schuller

Music For Young People
Flute and Piano Trio

AMP/Schirmer

1990

David Ott

*Sinfonia for Cello and Piano

Park Music Press

1989

Samuel Adler

*The Road to Terpsichore
For Piano

G. Schirmer

1988

William Albright

*The Machine Age
For Piano

C.F. Peters Corporation

1987

Leslie Bassett

*Configurations
For Piano

C.F. Peters Corporation

1986

Richard Felciano

Five Short Piano Pieces

Available through MTAC


For more information, contact:
Friends of Today's Music and Contemporary Music Seminar State Chair, Dr. Minji Noh