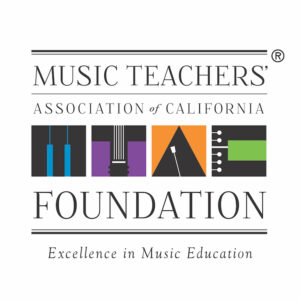 The Music Teachers' Association of California® Foundation is a charitable organization, established in 1989 to support students across the over 60 affiliated Branches statewide through the Foundation awards and scholarship programs. Since its establishment, the MTAC Foundation has provided thousands of dollars in grants, awards and scholarships to hundreds of deserving young students.
The mission of the MTAC Foundation is to provide opportunities for further musical education, the creation of new music, and public performances through scholarships, grants and awards.
When you contribute to the MTAC Foundation, you are helping foster artistic growth and achievement through programs that nurture the creation, performance, and further study of music. Your donation will fund the awards and scholarships given to deserving young musicians seeking to further their education and experience in both performance and creative musical fields. These musicians strive to achieve new heights in performances through the VOCE and Piano Concerto/Piano Solo competitions as well as the Young Artist Guild, which assists promising students in establishing a musical career. The Improvisation, Composers Today and the Young Composers Guild programs inspire students to create new music, and students have the opportunity to work with internationally renowned composers through the Friends of Today's Music program which brings composer, performer, and audience together for an adventure in contemporary music. The Music Study Assistance Grant provides financial assistance to support ongoing private music study for motivated MTAC students.
With your support, the MTAC Foundation can continue to bring educational opportunities to students and to challenge them to achieve artistic excellence. Your contribution to the MTAC Foundation is an investment in the future.
Support Students in the Following Programs
Your donation provides awards, grants and scholarships for students in these programs to support the students in their musical endeavors and motivate them to aspire to a high level of artistry and creativity, in addition to enabling students to further their musical education.
Select on a program below to donate or click here to learn more about each program.
**The Second Century Fund is a general fund designated for initiatives that benefit all of the MTAC Foundation programs.
Gifts to Music Teachers' Association of California® Foundation can be made "in honor of" or "in memoriam" by selecting a program above and indicating the person to be honored in the notes section.
Donate by Mail
Make checks payable to "Music Teachers' Association of California Foundation" and mail to:
Music Teachers' Association of California Foundation
2121 N. California Blvd, Suite 1030
Walnut Creek, CA 94596
Music Study Assistance Grant
This grant is awarded to assist highly-motivated students of active MTAC teachers, who have a financial need, to support them in their ongoing, private music study. Your donation ensures that this fund continues to enable students in need to continue their music lessons.
This fund provides awards for students of this prestigious competition for vocalists, strings, winds/brass, and chamber ensembles. Your donation helps to support these students in their musical endeavors and motivate them to aspire to a high level of musical achievement.
Offers awards for students in the Composers Today programs, to motivate them to create new compositions which receive professional feedback from some of today's leading composers, and to encourage students to continue developing their overall musicianship skills through their compositional studies.
Karen Owen Young Artist Guild Fund
Provides scholarships to the most gifted musicians in the Certificate of Merit® program to support their continued music education and to offer them semi-professional paid performance opportunities through MTAC branch-sponsored concerts. This fund is named in honor of former MTAC State Board member Karen Owen who was a dedicated supporter of the Certificate of Merit® and Young Artist Guild programs.
The fund provides scholarships to young composers helping them further their music education and provide performance opportunities for their works in semi-professional paid performance opportunities through MTAC branch-sponsored concerts. YCG also provides a venue for current members to present new works to be evaluated by leading composers.
Supports the creation and publication of new works by leading composers of our time by commissioning from them a work written specifically for young musicians which is premiered by students during the MTAC Convention. Your donation helps to keep this unique program alive where students have the opportunity to collaborate with the composer of the piece, and demonstrates the importance of playing music not only from the past but also music being created by today's composers.
Offers awards to inspire students to enhance their musical creativity through improvisation and to encourage them to strive to earn the honor of performing their improvisations at the annual MTAC Convention.
Compose a Legacy: Donation Options
Gifts to Music Teachers' Association of California® Foundation can be made "in honor of" or "in memoriam".
All gifts are eligible for tax deductions as allowable by law. The following information is general in nature. Before making any decision, please consult with an attorney and/or financial advisor.
Any amount is appreciated.
Contribute appreciated assets such as stocks or real estate.
Name the MTAC Foundation as a beneficiary of a life insurance policy.
Include MTAC Foundation in a charitable trust and/or annuities that provide the donor with a fixed or variable lifetime income.
Designate a fixed amount, specific assets, or percentages of an estate for MTAC Foundation after all other expenses have been taken. Reduction of estate tax liability may also be available.
eScrip
eScrip
eScrip.com allows you to shop online, buy groceries, or dine out to make a difference for the organizations you choose.
Visit our family of merchants for a complete list of participants in the program. Shop online with over 700 merchant partners at eScrip Online Mall.
Here's How it Works
Register one or all of your grocery loyalty, debit and credit cards for use in the program
Participating merchants make contributions based on your purchases.
Check your purchases online, to see how much you are earning for the MTAC Foundation!
Getting Started
Go to www.escrip.com
Enter our Group ID #: 500001198
Register MTAC and up to two additional organizations!

is a company that allows you to contribute to MTAC Foundation by shopping online with select merchants or with your internet searches.
For the majority of teachers in CA, the MTAC Solo and Concerto Competition is a very important checkpoint of young pianist's abilities.

I grow up in Poland where music education happens in special music schools. It is free but everyone has to work hard to  meet special standards by passing exams at the end of each semester. There are not as many piano competitions but everyone is motivated to work hard thanks to the internal atmosphere and competition among the students and teachers in the school.

In California, where learning is happening in private studios mostly, there is a need to create events which motivate students to practice. As we know, there are very many smaller and bigger competitions. Among them, the  MTAC Solo and Concerto competition represent the highest level. What I like a lot is that not only the level of participating pianists is very high but also the selection of judges is great. Participating students and teachers can always learn from constructive comments and trust that the results are fair, which in the world of very competitive and sometimes political music world is a very comforting assurance.

For many students the Solo-Concerto Competitions are like ladders to climb. In many competitions one can get a prize after some practice, but one has to work very hard in order to be recognized in the MTAC competitions. For those who play the state finals there is a special pressure, there are not only judges and parents listening to the competition but also very many teachers, and everyone remembers for a long time the State Finals of the MTAC Competitions!

In general though, thank you all involved in creating MTAC and running the MTAC Competitions as well. Thanks to your hard work the Californian musical world is a much better place!

I am sixteen years old. I started taking piano lessons when I was five. I have loved it ever since. My piano teacher is Rufus Choi. This year, besides competing in the MTAC State Concerto Competition, I am participating in several piano festivals. Currently, I am attending the Art of the Piano Festival in Cincinnati, Ohio. After this, I will attend the Frost Chopin Festival in Miami, Florida, and then the NYU Summer Piano Intensive in New York City.

Participating in the MTAC Piano Solo and Concerto Competitions has been a phenomenal experience for me as the extremely high level of pianism these events attract compels me to push my pianistic and musical limits to the utmost. In addition, it is always a joy for me to attend the convention where the finals are held and meet up with old friends as well as get to know new ones. I am very grateful that MTAC has these competitions for young pianists in California to compete in and learn from. The monetary awards that I have received from winning in these competitions are in a savings account for future use.

The MTAC VOCE program stands out as a key part in my growth as a musician, helping me to become the flutist I am today. It has been a platform on which I have been able to expand my musical abilities, building my confidence as a performer through competition. As a proud winner in both solo and ensemble categories, the Foundation awards will help to support my musical career, especially as I continue to pursue music in college.
The Music Teachers' Association of California® Foundation, established in 1989 as the philanthropic arm of the MTAC Association, is a California based 501(c)(3) tax-exempt nonprofit organization.