MTAC FOUNDATION MISSION STATEMENT
---
Adopted July 2015
The Music Teachers' Association of California® Foundation, established in 1989, is a California based 501(c)(3) nonprofit organization. It is the philanthropic arm and primary fundraising vehicle of the MTAC Association.


The mission of the MTAC Foundation is to support the activities of MTAC, in funding awards, scholarships, grants, and programs, through donations and investments.
HOW TO DONATE
---
Online
You can donate to MTAC online using your VISA, MasterCard, American Express or Discover credit card. It's fast and simple! Although our system uses Paypal, a Paypal account is not required. To donate, follow these 3 easy steps:
1. Click on the program you wish to support below.
Second Century (A general donations fund which may be used to support all programs)
Composers Today
Friends of Today's Music
Improvisation
Music Study Assistance Grant
Piano Concerto Solo
VOCE
Young Artist Guild
Young Composers Guild
2. Enter your donation amount. Check the box to make a recurring donation. Enter your information.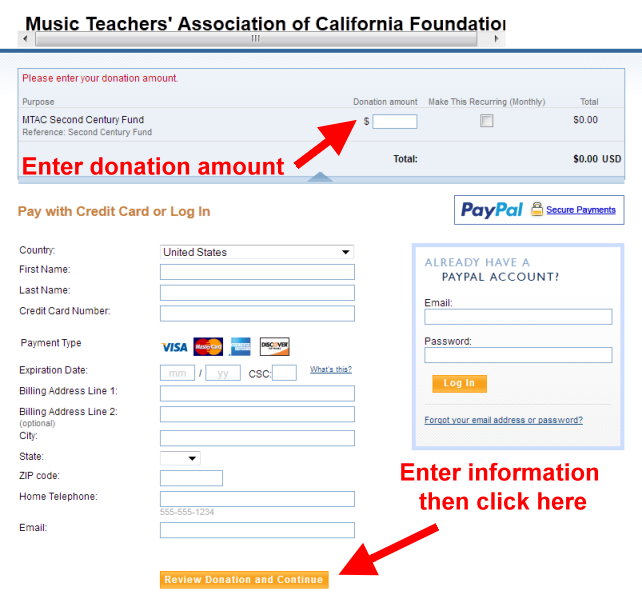 3. Click the "Review donation and continue" button to confirm your transaction.
Mail
Make checks payable to "Music Teachers' Association of California Foundation" and mail to:
Music Teachers' Association of California Foundation
833 Market Street, Suite #900
San Francisco, CA 94103
Electronic Scrip Incorporated – eScrip
Electronic Scrip Incorporated (ESI) is a California-based corporation that establishes relationships between commerce and community in providing resources to organizations that support children.
Visit our family of merchants for a complete list of participants in the program. Shop online with over 700 merchant partners at eScrip Online Mall.
Here's How it Works
Register one or all of your grocery loyalty, debit and credit cards for use in the program
Participating merchants make contributions based on your purchases.
Check your purchases online, to see how much you are earning for the MTAC Foundation!
Getting Started
Go to www.escrip.com
Enter our Group ID #: 500001198
Register MTAC and up to two additional organizations!
GoodSearch.com, GoodShop.com, GoodDining.com

Help raise money for MTAC Foundation online!
Search the Internet with the patent-protected, Yahoo!-powered search engine. A penny will be donated for nearly all searches.
Shop at one of 2,800+ participating stores (from Amazon to Zazzle). A percentage of your purchases will be donated, at no cost to you. More than 100,000 coupons and deals are available, so you'll save money too!
Dine at one of 10,000 participating restaurants around the country. A percentage of your bill will be donated, at no cost to you.
The GoodShop To-Go Button, GoodApp Toolbar and GoodSearch Plug-in on your computer in less than 30 seconds. Earn donations when you shop and search!
Approximately $1 will be donated just for completing a survey on the online surveys platform.
A donation will be made each time you complete a special offer.
CHOOSING PROGRAMS TO RECEIVE DONATIONS
---
Choose a program to receive your gift (may select more than one):
Composers Today
Music Study Assistance Grant
VOCE (Vocalists, Orchestral instrumentalists, Chamber music, Ensembles)
Friends of Today's Music
Piano Concerto and Piano Solo
Young Artist Guild
Improvisation
Second Century Fund
(A General Donations Fund)
Young Composers Guild
COMPOSE A LEGACY: DONATION OPTIONS
---
Gifts to Music Teachers' Association of California® Foundation can be made "in honor of" or "in memoriam."
All gifts are eligible for tax deductions as allowable by law.
Cash
Any amount is appreciated.
Appreciated Assets
Contribute appreciated assets, such as stocks or real estate.
Existing Life Insurance
Name the MTAC Foundation as a beneficiary of a life insurance policy.
Trusts
Include MTAC Foundation in a charitable trust and/or annuities that provide the donor with a fixed or variable lifetime income
Wills
Designate a fixed amount, specific assets, or percentages of an estate for MTAC Foundation after all other expenses have been taken. Reduction of estate tax liability may also be available.
The above information is general in nature. Before making any decision, please consult with an attorney and/or financial advisor.
---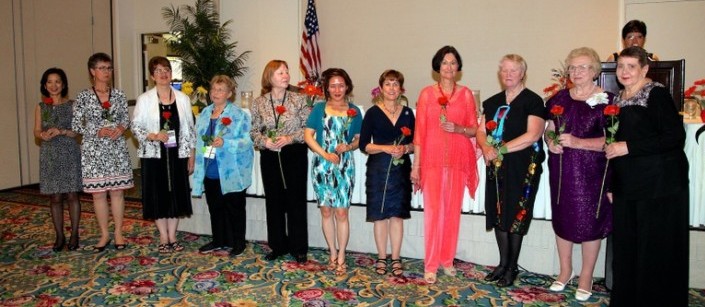 FREQUENTLY ASKED QUESTIONS (FAQ)
---
Why should I contribute to MTAC Foundation? I already support the Association with my dues.
The Association and Foundation exist for different purposes. The Association serves its members and forms a professional fellowship. The Foundation raises funds to support MTAC student programs. Member dues cover a portion of what the organization hopes to accomplish.
I'd like to support the Foundation, but I can't afford it now.
A gift of any amount helps tremendously. Also, there are many creative ways to give without spending any extra money. You can name the Foundation as a beneficiary on your IRA, life insurance, gifts of property, etc. Or you can participate in eScrip or other online programs that allow you to support the organization in your daily activities.
TESTIMONIALS
---
Thank you so much for your support of the VOCE competition. Winning 1st place in the Intermediate Ensemble Category was a major accomplishment and highlight for me and also for our piano quartet. To reach a milestone like this and know that hard work is being recognized is a wonderful gift. Thank you again for your support of young musicians.
– Katelyn V.
I would like to thank you for your generous support toward the VOCE competition. The scholarship money I received was a great help towards funding my musical career and education. I am currently trying to achieve my AA in Music and your generous donation has helped me pay for books and tuition. Thank you very much for this great help and for all your generous support to all young artists.
– Moises S .
---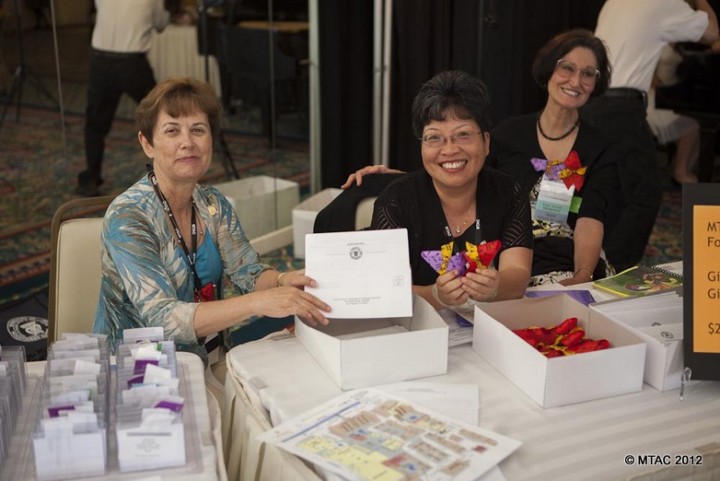 CONTACT US
---
We truly appreciate your support. Whether you are making a donation yourself or encouraging others to do so, please email us to ensure your philanthropic intent is recognized.
Please note the Second Century Fund is an MTAC general donations fund. If you have any questions, please call (800) 834-3340.